Mystery Encoder
21 July 2022
Awhile ago we posted the following PSA on a few modding facebook pages: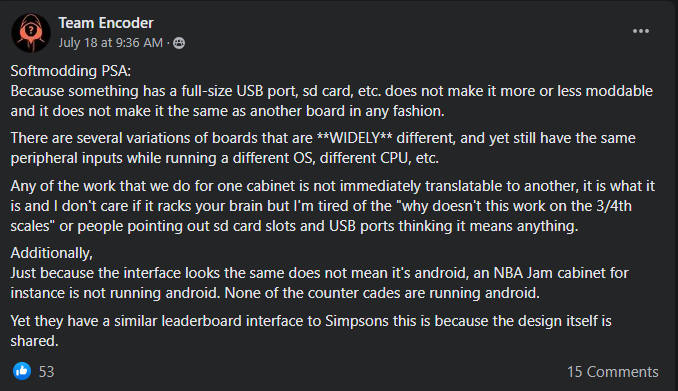 We want to make it clear, that demanding cabinets be modified isn't going to get us to look at them any faster and is in fact demotivational. We will start intentionally avoiding cabinets or people that make demands.
This includes the following comment on one of PDub's videos: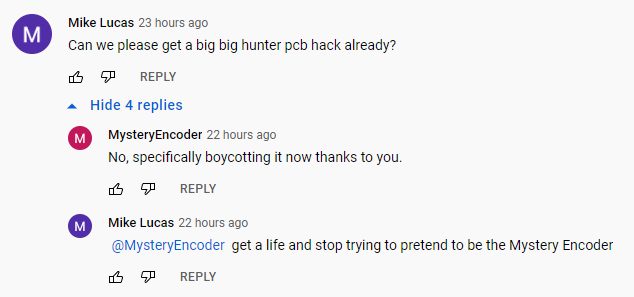 Things like this will make us care less and ultimately just avoid the cabinet altogether, just wanted to throw that out there because I'm getting annoyed seeing this stuff and the constant questions of "This thing has a USB" or "This thing has an SD Card", or "The countercades are the same as the 3/4th why isn't this done there". No, they're not the same you're making an assumption and a stupid one. I had considered doing bigbuck sooner than later, but at this point, I will intentionally avoid it just because of this person... we have a long list of cabinets to go through and entitled attitudes won't help.

USB Ports, SD Card slots, Ethernet ports or any other form of peripheral does not make something more or less hackable, the methods we utilize do not rely on these while we may integrate them for use with the modification each cabinet will be different, not every cabinet will be running Batocera when we mod it as an example.
We'll get to cabinets when we get to them what we've announced is what we're working on, until then just be patient and don't be an asshole.
Thanks to all of those who appreciate the work and continue to support us/me in what we do I know I can come off as an asshole at times, but I'm trying to be clear as to why. We do this for fun and entitlement and such makes this less fun and makes me want to walk away from the hobby altogether.
They got your bitch ass to come and make a comment you literally on their site talking shit. What no one will read your blog if you even created one crying about team encoders. Go make a fucking hack if then here there a list of request nba jam outrun pacman any of the arcades do something cause you're just a p.o.s. crying about what they can do or not do and what have you even did ???  Shit do big buck hunter. You mad over what?? We all curious to know what is this bitch so upset about ?? 
Obviously you have no clue what the fuck you are talking about but thanks for the laugh. Considering we are the only group of people who actually release anything for the community I'm sure many people would disagree with you. We'll keep doing what we're doing, you keep being a salty asshole.